Kwalitatieve en resultaatgerichte webdevelopment
Bereik uw doelgroep
met een doordachte en goed ontwikkelde website.
Van ontwerp tot ontwikkeling zorgen wij voor een resultaatgerichte website met behoud van uw identiteit.
Wij maken enkel gebruik van de laatste technieken zodat u uw concurrentie een stapje voor kunt blijven.
Met Webnit bent u dan ook verzekerd van een professionele website met perfecte
user-expierence
,
vindbaarheid
en
uitstraling
.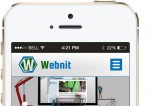 Goed overweg met telefoons en tablets
Hedendaags worden 50% van alle website bezoeken gedaan middels mobiele telefoons of tablets.
Om al uw bezoekers zo goed mogelijk te dienen, zorgen we ervoor dat uw website goed werkt op mobiele telefoons en tablets.
Een
responsive website
is daarom van groot belang.
Hoge ranking in Google
Een geweldige site verdient bezoekers, een
hoge ranking in Google
en andere zoekmachines is daarom een must voor elke website.
Een combinatie van kwalitatieve content en een uitstekende techniek achter de website is de sleutel tot meer bezoekers.
Meer over SEO . . .
Webdeveloper nodig?
Bent u opzoek naar een website ontwikkelaar, neem dan vrijblijvend
contact
met ons op.
Webdesigner of webdeveloper nodig?
Heeft u een professionele webdesigner of webdeveloper nodig?Maak afspraak